Current Issue
Editorial:
Report on BRSI XV Annual Convention – BioSD-2018 and CSIR-IICT Platinum Jubilee Celebration: A Gathering of Leaders of Indian Science
Biotech Event Report:
A report on International Conference on Bio-Innovation for Environmental and Health Sustainable Developments (BEHSD-2018), November 27-28, 2018; Lucknow, India
Guest Article:
Plants prove to be efficient antifungal factories
Research Article:
Plastic Waste Management by Microbial Degradation
Press Release:
UoH-BioNEST and Tech Mahindra signed MoU for Technology Collaboration
Govt and Industry News Inside:
# Press Release: The Indus Entrepreneurs (TiE) Hyderabad has announced the winners of TiE Hyderabad Agri-Biotech Startup pitch in a daylong event held recently at the PJTS Agricultural University.
# Odisha launches Biotechnology Policy 2018
#AIIMS-led team develops sensitive tests for pulmonary, pleural TB
#List of Awardees of SwarnaJayanti Fellowships Scheme, India – 2017-18 in Life Sciences AND Shanti Swarup Bhatnagar Prize (SSB) for Science and Technology 2017 in Biological Sciences
#Gilead hired Roche Veteran Daniel O'Day as New CEO
#9 breakthrough Life Science Discoveries of the Year
#Moderna Therapeutics Sets Record for Biggest Biotech IPO
Research News Inside:
#3D-printed glucose biosensor for use in wearable monitors.
#First significant risk loci for attention deficit/hyperactivity disorder.
#Gut microbiome differs among ethnicities.
#Stem cell researchers develop promising technique to generate new muscle cells in lab.
#Anversa cardiac stem cell lab earns 13 retractions.
#Former Colorado "golden boy" earns three-year ban on Federal funding.
#Pair of nanotech researchers up to at least two dozen retractions.
BioEvents Inside:
#BEST 2019, January, Chennai
#6th AIST International Imaging workshop, 20-27 January 2019, Japan.
You may Subscribe magazine from Here to read all issue or keep visiting website for current news and free download offers
CLICK TO SEE FREE ONLINE ISSUE HERE
---
News & Articles
---
Genomics Leader's Profile: Short Living Biography – Dr B K Thelma
October 2018 | Free Access
Prof B K Thelma, known as Thelma among the BioScience community is a well recognized leader in Medical Genomics Scientific research and among the few scientists who translated her research into application. Dr
Thelma is an excellent example to understand how Genomics is done and how it is applied for the welfare of general public. Thus we are trying to write as much as possible about her for our readers who search for new avenues and career prospects in Genomics.
---
International Market of Genomics
October 2018 | According to Goldstein Research analyst forecast the genomics market size is set to reach USD 24.5 billion by 2025, at a CAGR of 11.2%. Grand View Research, Inc. estimates the global genomics market size will reach USD 27.6 billion by 2025. MarketsandMarkets Research Private Ltd. valued global Genomics market at USD 13.45 Billion in 2016 and is expected to grow at a CAGR of 10.2% to reach to USD 23.88 Billion by 2022. Research and Markets' report The global Genomics market is expected to reach USD 23.88 Billion by 2022 from USD 14.71 Billion in 2017, at a CAGR of 10.2%.
---
Top Global Genomics Company – Oxford Nanopore – Game Changer in Genomics
October 2018 | As said ''an ace in the hole for DNA sequencing'' by world's most reputed Science journal i.e. "Nature", it is true that Oxford Nanopre is going to change what people think of Genomics. It is also evident that Gordon Sanghera and his team have developed a revolutionary device that will change the course of what people know and do with DNA Sequencing. So this special article will show you that why OXFORD has been selected for special coverage despite the presence of other major players in the market.
---
Genotypic Technologies – Forerunners in Indian Genomics
October 2018 | The reason why Genotypic Technology came 1st in our survey is because no other company is providing these many Genomics services to clientele from a such long time. Unlike others 'GT' company is both into R&D and sales of Genomics Services and products.
---
THE EMERGENCE OF GYAN BINDU ACADEMY WAS SERENDIPITOUS – Dr. Poonam Sharma, Director, Founder, Gyan Bindu Academy Pvt. Ltd.
June 2018 | Dr Poonam Sharma studied at Jawahar Lal Nehru University, New Delhi and successfully obtained her M. Phil. and Ph.D. from there in 2000. She has published over a dozen of research papers and review articles in several referred and reputed national and international journals. She has attended several national and international conferences/seminars related to her area of academic research interests. She has already published eight books while another two are in the press. She is the Founder and Director of Gyan Bindu Academy Pvt. Ltd., a 2005 start up which has grown by leaps and bounds over the past few years into India's top Life Sciences/Biosciences study assistance services provider
---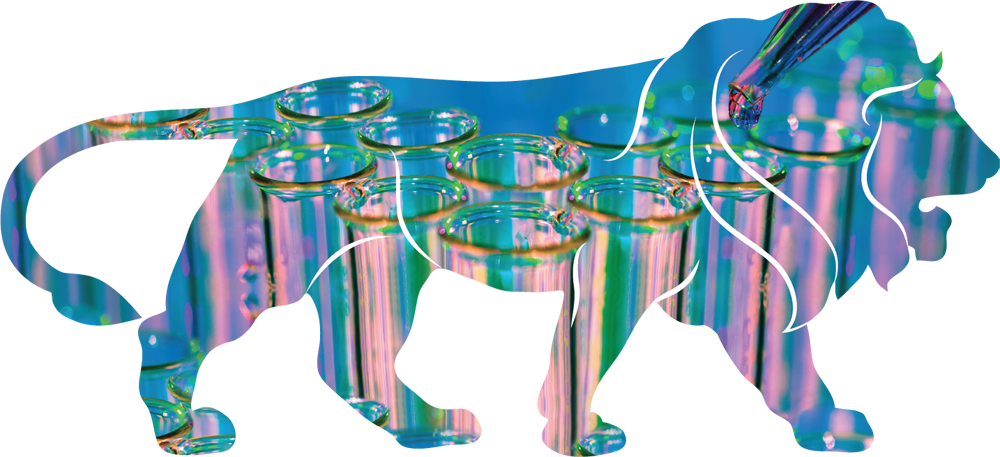 Emergence of Biotechnology Study in India & Top Biotech Institutions
June 2018 | The department of Biotechnology in India was started in year 1986 and born out a new era of development in the country but before a decade ago the seed was sown when Ministry of Education's most pioneering effort was instrumental in the creation of Biochemical Engineering Research Centre at IIT Delhi with substantial assistance from the Swiss Federal Institute of Technology, Zurich, Switzerland to make available state-of-the-art infrastructure for education, training, and research in biochemical engineering and biotechnology in 1974.
---
Biotech Coachings : Why their existence becomes important for students?
June 2018 | In my own experience, when parents ask questions about biotechnology, I feel they somehow came to know that biotechnology has a huge potential, but they have no idea what biotechnology is! People who really know about the basics and scope of biotechnology, with good counselling skills are few and at this time, experienced faculty, or professionals from industry, and/or individual coaches and coaching institutes can help understand Biotechnology as a career prospect. Amongst, only coaching institutes are easily available to pre-college and college students as a guide for this field. The probable reasons why biotech-coaching institutes are becoming integral to students are discussed:
---
Biotechnology and Life Sciences Coachings in India
June 2018 | India has around 60 coachings which provide teaching assistance to more than 10,000 students on 6 month basis. These are available all over India but main hotspots are Delhi, U.P and Chandigarh, slowly they all are developing and giving valuable assistance to young generation. The recent time saw sudden increase in number of coachings from 15-20 in 2013 and now 60 in 2018. This shows that Biotech coaching for MSc and NET is valuable commodity for the biotech market, they help to produce scientific talent in the country like other exams of medical, engineering, UPSC etc.
Interview
Ready to make big changes in Biopharma industry through applications of Stem Cells- Dr. Subhadra Dravida, Founder, Transcell
May 2018 | We arranged a talk with CEO of India's pioneer biotech company built on stem cell based technologies at Hyderabad, India. She talks about current govt. regulations and business revenue generation of Stem cell industry. Recently govt. has also decided to frame Stem Cell therapy guidelines with high possibility to bring it in the gamut of healthcare industry. The purpose of this talk is to share the experience of leaders of this niche biotech business and to help next generation entrepreneurs understand the nuances to take risks and stay motivated.
---
Editorial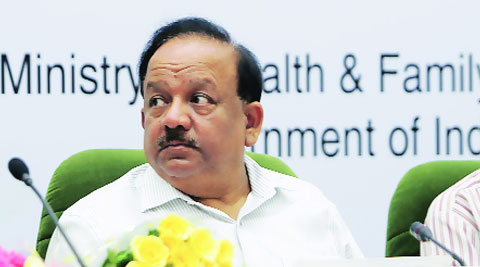 Govt. to regulate doors for the entry of stem cells based drugs in India; Stem Cell Drugs and not therapy will be subjected to pharma regulations, proposed health ministry of India
May 2018 | More than minimally manipulated and substantially manipulated stem cells' would be considered as 'drug' under the amended Drugs and Cosmetics Rule, 1945, whereas 'minimally manipulated stem cells' would form part of the 'stem cell therapy' and fall under the purview of surgeons or clinicians as opposed to 'stem cell drugs' which would be a product or a drug.
---
Startup Story
NOT ALL STEM CELLS ARE CREATED EQUAL! They grow better in Low Oxygen Conditions
May 2018 | Stemedica has patented method of culturing cells under hypoxic conditions of 3-5% O2, resulting in much higher efficacy, as seen in several ongoing global clinical trials and numerous case reports. The hypoxic Stem Cells are fully characterized (Figure 4) with all major biomarkers identified (no CD34 indicating pure MSC cultures, with no hematopoietic or progenitor cells).
---
Guest Article
CRISPR – Theory and Technology
May 2018 | By Ranjani Rajasekaran and J. John Kirubaharan
Genome editing technology evolved steadily with consistent improvisation of the former technology. One such improvised technology was CRISPR-Cas9 which exploited the microbial adaptive immune system – CRISPR – found in bacteria and archaea. It was initially found in the E.coli K12 bacterial genome. Later, in the year 2002, this junk of DNA was named as Clustered Regularly Interspaced Short Palindromic Repeat' – CRISPR.
---
Invited Article
Stem cells & their status in India
May 2018 | Stem cells are cells that have the potential to develop into some or many different cell types in the body, depending on whether they are multipotent or pluripotent. Serving as a sort of repair system, they can theoretically divide without limit to replenish other cells for as long as the person or animal is still alive.
---
News in Focus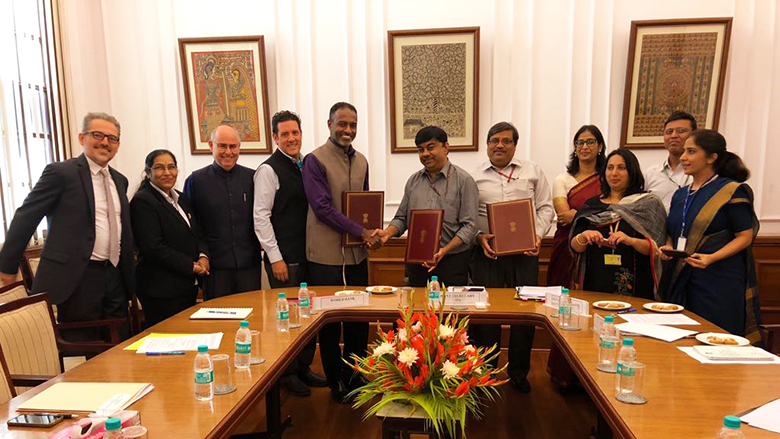 India signs loan agreement with World Bank for US$ 125 million for "Innovate in India for Inclusiveness Project"
April 2018 | By Biotech Express News Bureau | Government of India and World Bank Sign Agreement to Invest in Technology that Addresses India's Public Health Priorities. The $125 million loan from the International Bank for Reconstruction and Development (IBRD), has a 5-year grace period, and a maturity of 19 years.
---