---
Guest Articles
---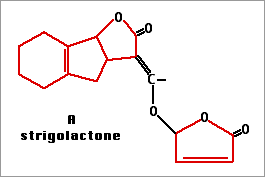 Guest Article: Strigolactone: A new plant hormone
April 2018 | by Shivani Nagar and Maharaj Singh | ICAR-Indian Institute of Soybean Research, Indore, Madhya Pradesh
Earlier they were thought to be limited to parasitic plants as they were discovered in series in many other parasitic plants like broomrapes (Orobanche and Phelipanche spp.) and Alectra species etc. Later on their role was found in other developmental process like shoot branching and tillering…
---
Guest Article: Bristol's bone biologists are in finals of European Space Agency (ESA) Education Office's hypergravity competition
April 2018 | by Chloe Rowley | University of Bristol's Press Office
A team of student biologists from Bristol University have been selected to take part in the European Space Agency (ESA) Education Office "Spin Your Thesis! 2018 programme", which will take place in the Netherlands this September. Through the experiment, the Bristol Bone Biologists hope to achieve a deeper understanding around the onset and development of Osteoarthritis, by examining the effect of hypergravity conditions on the developing skeleton of Zebrafish….
---
Guest Article: An Introduction to Pseudotyped Virus and its Application In Virology Research
March 2018 | J. Marcia Ashmi and Ranjani Rajasekaran | PhD scholar, Indian Veterinary Research Institute, Bareilly
The process of aggregation of viral core and envelope originating from different viruses is called pseudotyping and the resultant viral particle is called a pseudotype or pseudotyped virus (PV). The outcome of sharing envelopes increased the infectivity array of a particular virus as the envelope proteins are attributed to determine viral tropism. The first report of PV was a serendipitous discovery with Rous sarcoma viral core and Rous-associated virus envelope (Rubin, 1965).
---
News Commentary: Darwin's Evolution in crisis: Conflict between Religious Persuasion and Explicit Science!!!
February 2018 | by Vikram Thakur, Ph. D. Scholar
Recently, the Satyapal Singh (Minister of State for the Ministry of Human Resource Development), while addressing All India Vedic Conference (20 Jan 2018), remarked a controversial statement rejecting popular Darwin Theory of Evolution and claimed that "humans appeared on earth as human". Such irresponsible and unscientific statement claiming Darwin's theory "scientifically wrong" and advocating to change the school curriculum, reflects the ignorance of such an intellectual IPS officer-turned-politician.
---
Guest Article: BioStartup: ShreeJi Biotech- An emerging name you can trust in Biotech, Life Science and Pharmaceuticals
January 2018 | by Pradeep Sharma
Shreeji Biotech has pioneered a vision to provide in depth knowledge of biotechnological, life science and pharmaceuticals that supports real needs of today's biotechnology/ life sciences students and preparing them for the future job or career options with quality benefits.
---
September 2017 | Read Full Article
Guest Article: Green super Rice: A tailor-made rice for changing climate by Prudhvi Raj Vennela and Varsha Gayatonde, Department of Genetics and Plant Breeding, IASc, BHU, Varanasi
Green Super Rice (GSR), popularly known as "grain of truth" entered Asian market recently. This is a painstaking effort of scientists over two decades which congregates conventional, molecular and advanced breeding approaches in-order to incorporate the novel traits and genes responsible for that into elite cultivars.
---
September 2017 | Read Full Article
Guest Article: Stem Cell Technology for Tissue Repairing by S.Archana and C.V.Karthikeyan, RVS Padmavathy College of Horticulture, Sempatti, , Tamil Nadu, India
Stem cell is an undifferentiated cell of multicellular organism that is capable of giving rise to identify more cells of the same type. These cells are undifferentiated biological cells that can differentiate into more specialized cells and divide through mitosis to produce stem cells called as self-renew.
---
August 2017 | Read Full Article
Short Article: Genetically Modified Mosquitoes in Disease control by Natesh V.Binnisha and C.V.Karthikeyan, RVS Padmavathy College of Horticulture, Sempatti, Tamil Nadu, India
Of all disease transmitting insects, mosquitoes are considered one of the most dangerous creatures on planet because of their ability to spread deadly diseases. The United States center for disease control reports it kill more than one million people annualy just through transmission of mosquito borne diseases. The deadly diseases transmitted by mosquitoes include Dengue fever, Yellow Fever, Malaria, West Nile Virus, Zika Virus and chicken gunya.
---
July 2017 | Read Full Article
Guest Article: The GST reform: Will it cost us our Health? by Dr Sameer Gupta & Dr Sonia Lal Gupta, Founders, VoiceofHealth.in
GST is levied on the supply of goods or services or both in India and will replace a number of existing indirect taxes being collected by the Centre and State Governments, including Central Excise Duty, Service Tax, VAT, Purchase Tax, Central Sales Tax, Entry Tax, Local Body Taxes, Octroi, Luxury Tax, et al. GST will help streamline the taxation system in the country and is set up with a primary aim to bring uniformity in tax laws in our country, hence the mission: One Country, One Tax.
---
July 2017 | Read Full Article
Guest Article: Veterinarians in Mainstream Biomedical Research: A need of the hour by Sharvan Sehrawat and Rajeev Kaul, Department of Biological Sciences, IISER- Mohali, and Department of Microbiology, University of Delhi South Campus
The authors opine that in order to strengthen the need based quality research to fulfill unmet challenges; a close interaction and collaboration between veterinary and biomedical scientists are required. The authors discuss the contribution of scientists who were initially trained to be veterinarians and then went on to become accomplished biomedical scientists only to make some ground breaking discoveries that eventually helped ameliorate public and animal health. Furthermore, concerns of trained veterinarian aspiring to become contributors in basic and biomedical sciences are highlighted.
---
June 2017 | Read Full Article
Guest Article: Climate Smart Rice (CSR): Boosting the food security in the changing climate by Sandeep Kumar, S. Prasad, Rajkumar Dhakar, Shakeel A. Khan, CESCRA, IARI, New Delhi and ICAR- Central Research Institute for Dryland Agriculture, Hyderabad, Telangana
Globally, climate change is expected to reduce cereal production by 1% to 7% by 2060. Both the changing climate and growing population has been increasing the pressure on our food resources. The sustainability of feedable resources is looking difficult in present changing scenario of climate.
---
May 2017 | Read Full Article
Guest Article: Climate change and role of Biotechnology in Agriculture by Omprakash, Gobu R, Kailash Chandra and Umakant Banjare Department of Genetics and Plant Breeding, Institute of Agricultural Sciences, Banaras Hindu University, Varanasi
Forecasting climate change is imperfect, complex, important, and often controversial. The core challenge of climate change adaptation and mitigation in agriculture is to produce more food with more efficiently under more volatile production conditions.
---
May 2017 | Read Full Article
Review Article : Application of Pectinase enzymes from Bacillus in industries: A Review by Aparna B Gunjal, Meghmala S Waghmode, Neha N Patil, Haribhai V Desai College, Annasaheb Magar Mahavidyalaya, Waghire College
Many Bacillus species are able to produce copious amounts of enzymes, which are of use in different industries. Pectinase enzymes are today one of the upcoming enzyme of commercial sector. It has been reported that microbial pectinase account for 25 % of global food sales.
---
April 2017 | Read Full Article
Guest Article: The Past, Present and Future of Genomics by Rahul Kumar Meena, Chaudhary Charan Singh Haryana Agricultural University, Hisar, Haryana
Genome science is a new way of looking at biology that unites genetics, molecular biology, computational biology and bioinformatics. Genomics is the study of all the genes of a cell, or tissue, at the DNA (genotype), mRNA (transcriptome), or protein (proteome) levels."
---
April 2017 | Read Full Article
Research Article : Industrial Prospects of Microalgae by Meghmala Waghmode, Aparna Gunjal, Neelu Nawani, Neha Patil, PDEA's Annasaheb Magar Mahavidyalaya, Savitribai Phule Pune University, Dr D.Y. Patil Biotechnology and Bioinformatics Institute, Waghire College Saswad
In developing and developed countries, there is need of finding alternative renewable biofuels. Biological origin of biofuels is economical and sustainable, hence elaborative research is going on finding the sources. Algae finds its role in production of ethanol, hydrogen and biodiesel due to its cell wall content viz., cellulose, lignin and lipid. Stagnant and treated water generally polluted with algae due to presence of nitrate and phosphorus. Low growth requirement of algae is the main attribute of microalgae.
---
March 2017 | Read Full Article
GUEST ARTICLE: Phytomelatonin: A plant hormone for management of stress by M. Dhole, H. N. Shelat, D. G. Panpatte and Y. K. Jhala, Agricultural University, Gujarat
The science behind plants stress tolerance to biotic and abiotic stresses is always remains interesting and important aspect for researchers to enhance the crop productivity in arid and semiarid regions all over the world. Melatonin (N-acetyl-5-methoxytryptamine) is indoleamine related to tryptophan involve in many physiological activities of plant.
---
February 2017 | Read Full Article
GUEST ARTICLE: Modern scenario in the field of genome editing technology by Meenakshi Raina, and Jebi Sudan, School of Biotechnology, Sher-e-Kashmir University of Agricultural Sciences and Technology- Jammu
In late 1970's gene targeting was developed as a powerful tool for permanent site specific modification of the genome. But this technology was based on taking DNA from the other source which makes it laborious and error prone. Although at that time these technologies were widely used.
---
January 2017 | Read Full Article
GUEST ARTICLE: CRISPR-Cas; A potential technique for crop improvement

---
December 2016 | Read Full Article
GUEST ARTICLE: Stain DNA, but not the living cell by Meenakshi Raina, and Jebi Sudan, School of Biotechnology, Sher-e-Kashmir University of Agricultural Sciences and Technology- Jammu
Thus, more research is to be needed for clearly producing a picture regarding the toxic level of EtBr and its mutagenic behavior. But for being on a safer side, proper handling measures must be followed while dealing with EtBr without making huge fears on its regular use. As there is well know proverb that "knowledge will protect you far more than fear ever can".
---
December 2016 | Read Full Article
GUEST ARTICLE: The Emergence of Ebola Virus by Amaresh Mishra, Gautam Buddha University, Gr. Noida, India
There has been an outbreak of Ebola Virus in West Africa. Guidelines have been generated by a number of Public Health Agencies worldwide to assist in halting the spread of this deadly Ebola virus disease. Ebola virus emerged in the West African countries like Guinea, Liberia and Sierra Leone in early 2014.
---
October 2016 | Read Full Article
GUEST ARTICLE:– Marketing Indian Science by Vibhu Jain, PhD, Head of Regional Marketing (APAC) – Research at Merck Life Sciences
Answer is none of these will get you answer to your question. One day I was standing outside one of reputed research lab when a 15 year old guy came at gate and asked "I want to know what research you do, can I meet someone". I was able to see that guard at the gate was clueless on what to do. I spent few minute with this guy and discuss what Scientists do. His second question was do we have any app where he can see who are top Scientists of India in various field. Honestly, this time I was clueless.
---
October 2016 | Read Full Article
GUEST ARTICLE: – Genome editing – A Boon for Agriculture by Varsha Gayatonde and Prudhvi Raj Vennela, Department of Genetics and Plant Breeding, Banaras Hindu University
The potential genome editing techniques i.e. Meganucleases, TALENs (transcription activator-like effector nucleases), ZFNs (zinc finger nucleases), and CRISPR-Cas9 (Clustered Regularly Interspaced Short Palindromic Repeats) are gaining much importance after the decreased popularity of Genetic modification technology.
---
September 2016 | Read Full Article
COVER ARTICLE:– Selling to life scientists by Vibhu Jain, PhD, Head of Regional Marketing (APAC) – Research at Merck Life Sciences
Many time you will see that people join into technical sales after PhD when they feel its challenging to get good PostDoc or Research position, rarely PhDs opt for this position by choice. I was one of those, who opted it by choice and would like to share my experience to be successful into technical sales and challenges one can face when starting his or her career into Life Sciences commercial world.
---
September 2016 | Read Full Article
VIEWS:– DO WE REALLY APPRECIATE AND SUPPORT INNOVATION? by Prof M.N. Gupta, Emeritus Professor, IIT-D
The last shark spoke softly, " As a visionary, I can see that you have invented something useful. However, my friend, at this point in time, it seems worthless. As an inventor, you should not give up. Hustle, knock doors and go on trying. Try, one day you may end up making something useful. Tie up with some big names, make lots of money. At that time, come back and we are here to help you at that stage. Good luck."
---
September 2016 | Read Full Article
GUEST ARTICLE: – The Emergence of Zika Virus (ZiV): Indian perspectives by Amaresh Mishra, Gautam Buddha University, Gr. Noida, India
It has been spread over more than 25 countries till now. First indigenous case of America was found in February 2015, in Chile. Since April 2015, a large outbreak of ZiV has spread across much of central and south America. Then it began in Brazil, in May 2015, 16 cases investigated with Zika infection. In June 2015, first case of ZiV was presented in Dominican Republic. In Jan 2016, a travel alert was issued by CDC for traveler towards ZiV affected countries. Researchers from Brazil identify a new vector of ZiV is Culex quinquefasciatus.
---
September 2016 | Read Full Article
GUEST ARTICLE:- DENGUE: YET UNTREATABLE- Promising role of Papaya leaves in its cure
Dengue is a viral disease that today affects a vast number of people in over 125 countries and is responsible for a sizable number of deaths. In the absence of an effective antiviral drug to treat the disease, various treatments are being investigated. Studies have indicated that the juice of the leaves of the Carica papaya plant from the family Caricaceae could help to increase the platelet levels in these patients.
---
August 2016 | Read Full Article
The Pain and Pleasure of Reviewing Research Articles by Prof M.N. Gupta
You may wonder why I am using past tense. These days more often decline than accept these invitations. Let me spell out the reasons as I suspect many people (especially of my generation) are slowly giving up on reviewing papers.
---
August 2016 | Read Full Article
Dr. A. P. J. Abdul Kalam lives on… by Dr Aditi Sahu
Dr. A.P.J. Abdul Kalam, born in the Southern city of Rameswaram hailed from a humble background. His father was a local fisherman. From selling newspapers after school to help ends meet, to going on to become the president of India, his illustrious career spanned more than six decades.
---
Towards an 'Open- Access' Future by Aditi Sahu
The brains behind the brilliant program- Ms. Alexandra Elbakyan, has however been condemned and discredited by successful corporate publishing houses for her initiative, labeling her a criminal and cheat. She is also facing several lawsuits filed by Elsevier Inc. against Sci-Hub which also led to suspension of the original domain name of Sci-Hub (sci-hub.org) after a court ruling. Using to an alternate domain, Sci-Hub sprung back to life within days.
---
Some Deleterious Consequences of Birth of New Disciplines in Science: The Case of Biology by Prof M.N. Gupta
Many other areas have not been so lucky. Sometime ago, an editorial of Current Science journal touched upon synthetic biology and how physiology and biochemistry, the much older disciplines, had a similar overview of the biological systems. Politicians survive by coining catchy slogans; scientists more slyly discover materials science or nanotechnology or bioinformatics. Funds ('vote banks') have to be won; 'schools' have to be created. Both politicians and scientists are necessary in society and both should survive and normally do thrive if they are lucky.
---
What is a World Class Educational Institution? by Prof M.N. Gupta
I teach at IIT Delhi. Like many Indian scientists, I have also spent some time in other institutions, both national [IISc, Bangalore; AIIMS, New Delhi] and outside India [MIT, USA; University of Technology of Compiegne, France; Lund University, Sweden and University of Minnesota, USA]. So, I have often wondered what is a great educational institution and how do we establish more in India. All the institutions I have mentioned above are great institutes. Earlier, in my life, I also attended Hansraj College in Delhi University.
---

Sci-hub: A Boon for the Scientific World by Shafqat Ali Khan
A research scholar needs to read hundreds of research articles during Ph.D. However, often, a researcher is unable to access articles beyond the abstract due to the paywall policy of publication houses. The BIG question is can a researcher pay $20-30 for each paper required to read during the Ph.D tenure? The answer is a 'BIG NO'. None of the universities of even developed countries have institutional subscription to all the journals; the situation becomes grave in developing countries due to the shortage of funds. To deal with this situation, researcherswaste too much time in writing to individual authors and a number of times, their request…
---
Plant Synthetic Biology – A new paradigm by Surender Khatodia & Kirti Bhatotia
Assembly of simple circuits using DNA fibers would pave the way for molecular sensors and molecular clusters. The 'sentinel' plants were developed by synthesizing and optimizing signal trans duction pathway switch in plant cells, which can act as indicator or biosensor that de-colorizes, when it detects a specific molecule. The plant cell receptors have been engineered…
---
Research Article: Bioplastic – An approachable way to manage white pollution by Sandeep Kumar, P. K. Upadhyay, Rajkumar Dhakar and Rohini Bansode
Bioplastic is a plastic made using renewable biomass. Bioplastics are manufactured using biopolymers which offer a renewable and sustainable alternative to oil-based plastics (petro plastics). Bioplastics can be produced from plant starch, cellulose, lignin (wood), oils and proteins.
---
Research Article: Self Healing Polymers: An Innovative Boon for Longevity of Products by Aradhana Khare and Sarika Chaturvedi
The use of self healing material is an emerging and fascinating area that would improve the working life and safety of the products for a broad range of applications. Now the use of self healing agents is no more a fiction but has proved as a boon in paint industry, aerospace industry, concrete industry, lubricants and corrosion resistant materials as well.
---
Research Article : Metabolic Engineering: A Promising Tool for Effective Utilization of Bioresource by Sudesh Kumar Yadav
Metabolic engineering deals with the use ofmodern techniques of genetic engineering such as gene overexpression, gene silencing, CRISPR/Cas9 and modified genes producing potential proteins for the production of desired molecules at higher concentration and undesired molecules at low concentration. Some of my laboratory efforts in this directions are highlighted briefly.
---
Research Article: Marine sources hold treasure for therapeutics. by Dr. Zeeshan Fatima and Dr. Saif Hameed
Marine ecosystem represents almost half of the total diversity on the earth. The marine ecosystem are rich bioresources which are pool of bioactive compounds that have immense industrial, pharmaceutical and nutraceutical potential. Marine compounds isolated from marine organisms are emerging and attractive options for antimicrobial drugs nowadays. They have antimicrobial activities like, antifungal, antimalarial, antiprotozoal, anti-tuberculosis and antiviral activities.
---
Research Article: Innovative Research on Water Hyacinth utilization in India. by Dr. G. Nagendra Prabhu
It has been estimated that at any given point of time more than 2 lakh hectors of water bodies of our country are affected by the infestation of aquatic weeds like Water Hyacinth (Eichhornia crassipes) and Water Moss (Salvinia molesta). Their explosive growth and mat forming nature causes severe damages to the aquatic ecosystems all over the world. The negative impacts of these weeds include reducing biodiversity, affecting inland navigation, irrigation, agriculture, fisheries and backwater tourism directly impacting the livelihood of millions of people.
---
Research Article: Soil enzymatic activity: A vital tool for soil quality assesment. by Sandeep Kumar
Soil enzymes are vital and a very relevant parameter for assessment of soil quality. Near about all the soil enzymes are directly or indirectly affected by climatic as well as anthropogenic activities. Soil enzymatic system perpetuates soil biodiversity, soil productivity and functional diversity under several climatic stresses and management circumstances. Soil enzyme activity is a potential indicator of soil quality assessment because of its high subtlety to cimatic and cultural interference and the serenity of measurement.
---
Guest Article: ​Regenerative Medicine by Afsha Khan
Regenerative medicine is a branch of tissue engineering and molecular biology which replaces the damaged tissues and organs to restore their proper functioning in the body. Though our body possesses the ability to heal the damaged parts of the body, but this natural process is a pretty slow one. Regenerative medicine promises to heal the damaged tissues and organs at an accelerated pace.
---
Guest Article: Drug Discovery In India by Ketan Zota
---
Guest Article: Three-phase partitioning of proteins: TPP, Old wine in a new bottle by Vaibhav Sharma​
Three phase partitioning (TPP) is such a useful bioseparation strategy which satisfies almost all of the above parameters for present day need. TPP is an emerging purification method, which is simple but elegant non chromatographic process used for purification and concentration of proteins. It is easily scalable and can be used directly with crude suspensions.
---
Guest Article: Zika Virus by Kaushal Kumar
The Zika virus, unlike other mosquito-borne viruses such as dengue, is relatively unknown and unstudied. That is set to change since Zika, now spreading through Latin America and the Caribbean, has been associated with an alarming rise in babies born in Brazil with abnormally small heads and brain defects — a condition called microcephaly.
---